Well done to Penguin class for their brilliant work and assembly all about the stone age. It was Brilliant!
Penguin Class Assembly
Penguin class had great fun making some Stone Age pottery.
Stone Age pottery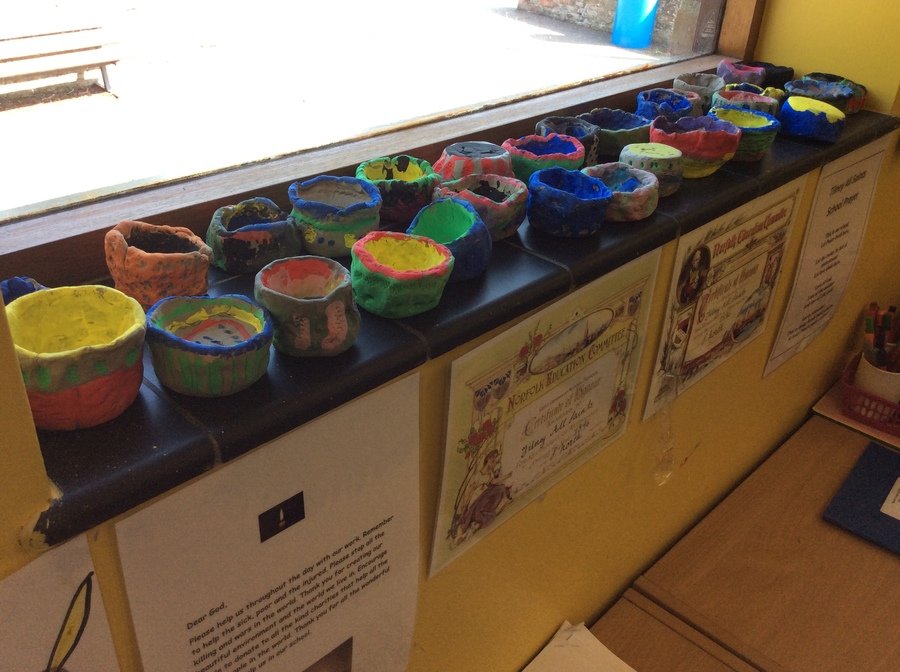 Penguin Class had a fantastic time at Flag Fen at the stone age archaeological park.
Penguin Class Trip to Flag Fen
Penguin Class Environmental Homework
Penguin Class Wash Day Homework
Well done to all of Penguin Class for performing a brilliant class assembly all about the Chinese New Year. They are learning about Ancient China during their topic lessons and spent some time looking at the Chinese New Year. We all thoroughly enjoyed watching!
Penguin Class China Assembly
Penguin Class Norfolk Rocks Homework
Penguin Class were excited to see Santa, thank you to FOSA for providing the presents.
Penguin Class Santa Visit
Penguin Class Science Homework
Penguin Homework on Space and Stars
Penguin Class working hard yesterday afternoon.
Penguin Class recently visited the Fitzwilliam Museum in Cambridge and had a fantastic day looking and learning about the Egyptian artefacts.
Penguin School Trip to the Fitzwilliam Museum
Penguin Class Firework Homework
Penguin class have thoroughly enjoyed learning about the Egyptians and presented their class assembly to the whole school. Thank you to the parents that attended and helped with their fabulous costumes.
Penguin Egyptian Assembly
Penguin Class Speed Homework
Penguin Class performed a fantastic class assembly all about the Romans. They showed us some of the different ways they invaded and defended themselves and told us lots of information about the lives of the Romans. It was a very good Assembly Penguin Class - well done!
Penguin class were all very excited when Phoebe and her parents brought in some goslings to show the rest of the class. They got to listen to how they are looked after and what they need, as well as having a stroke of them!
A gosling visits!
Penguin Class took great care when they were planting the flowers left over from their science experiment. Thank you Penguin class - they look lovely in our grounds!
Lots of children in Penguin Class were very excited to take part in their very own book and toy exchange in order to help with Bishop Steven's Lentern challenge.
Book and Toy exchange
Penguin Class performed a very informative assembly all about Ancient Greece. They told their audience all about the Battle of Marathon and the Battle of Salamis. It was a great Assembly - Well done Penguins!
Ancient Greece Assembly
Penguin Class had the Dims come to visit them to make them aware just how important it is to wear your seatbelt in a car. There were demonstrations and lots of questions! We hope that ALL of our children ALWAYS wears a seatbelt when they make any journey in a car!
The Dims visit Penguin Class
The children were very excited when Santa visited Penguin Class!
Santa Visits!
The Penguins performed a wonderful assembly all about their current topic - The Victorians. We learnt what Victorian life might have been like and found out what the Penguins did on their recent trip to the Victorian school. It was a brilliant and very informative assembly Penguins - well done!
Penguin Victorian Assembly
Penguin Class took a trip back in time to 1896 when they visited Great Cressingham Victorian School. They found out what life was like for children in Victorian times by playing with Victorian toys and taking part in Victorian lessons, as well as having a Victorian lunch. The children think school is a lot more fun in modern times!
Victorian Trip
Penguin Class had an artist come to visit them earlier this week. Kirsty O'Leary came to help the children draw portraits of themselves and other people using a variety of different media. You can see from he photos below that the children loved it and produced some wonderful work!
Portrait drawing in Penguins
Penguin class performed a superb assembly all about Ancient Egypt. It was very informative and they also produced a brilliant sarcophagus - which you can now see standing proudly in the entrance hall! Well done Penguins!
Ancient Egypt Class Assembly
Penguins were lucky enough to have the Planetarium come to visit! They were taught all about space and the different planets, which they all found very interesting!
Planetarium Visit
The "Dins" came to see Penguin Class and teach them all about road safety and the importance of wearing a seat belt in a car. The children found it very interesting and learnt some invaluable information in how to keep themselves safe.
Road Safety