Sport
P.E. Vision Statement
At Tilney All Saints Primary School we aim to provide challenging and appropriate P.E. lessons that allow children to reach their full potential. We recognise that P.E. and sport have an important role to play in raising standards and narrowing the achievement gap. We believe that positive participation in physical education will leave students with a legacy of success facilitating an active lifestyle.
We promote active participation and lifelong learning through movement centered and knowledge based activities. All activities are inclusive and help to nurture a love for physical activity.
Tilney All Saints Primary School offers a range of High Quality opportunities for young people to access Physical education, both within and outside of school hours, and also through competition. We aim to guide youngsters to make healthy choices as part of an active, balanced lifestyle.
P.E. Funding
At Tilney All Saints Primary School we have made very effective use of the Sports Grant. We have found that with the additional funding the participation of extra curricular clubs has increased. We are also available to offer a wider range of exciting clubs, which has interested and motivated our pupils.
Currently 73% of all Key stage 2 pupils attend extra curricular clubs and activities. Last year there were 72 individual opportunities for children in Key Stage 2 to participate in sporting tournaments and competitions, with 100% uptake.
To ensure the impact of the grant spending is sustainable, we have offered extra sporting opportunities through training a staff member in NPETCS, ensuring high quality P.E. is being delivered throughout the whole school, both in and out of the curriculum. We have also been able to utilise external bodies to provide a more diverse range of sports, before, during and after the school day (E.g. Archery and fencing).
Please see our P.E. funding report below.
During the academic year 2014-15 53% of pupils participated in extra curricular sporting and events and activities.
The whole school took part in a fitness morning to coincide with National Fitness Day on the 27th September. There was lots of dancing and running round the playground - and also lots of smiles as the workouts were completed!
Once again we have had a very successful sports day, with lots of children excited to be taking part in, and winning races. We were very lucky to have such beautiful weather for it as well, which meant that the day was all the more enjoyable. Thank you to all of the grown ups who came to support the children and cheer them on!
Many thanks to Mrs Reed who organised "Jump Rope for Heart Day" in association with the British Heart Foundation. All of the children had the chance to learn to skip and improve their skipping skills. We had a lovely day for it and the children said they really enjoyed it while raising money for a very worthy cause - Thank you Mrs Reed!
After taking part in the skipping, Mrs Reed and Miss Hill gave out some special awards to people who excelled on the day. Have a look below at the super skipper of the day, the endurance skipper, the obstacle champion and of course all of the very helpful children who were on hand to help the grown ups with anything they needed!
Children from both of our schools really enjoyed the cluster Netball festival held at Tilney. The behaviour from all of our children was impeccable and they showed some brilliant netball skills - well done!
Well done to our footballers who recently visited Emneth School to take part in a smooga competition. They were playing some fabulous football and worked excellently as a team! Well done!!
We recently hosted the Marshland Cluster Rugby Tournament. We tried hard and the standard of rugby was really high! Well done to all of the teams who came along - a fabulous afternoon was enjoyed by all! Special thanks to FOSA who supplied refreshments throughout the afternoon!
We came dressed up in funny clothes for Sport Relief this year and complete a mile run around the school grounds. Thank you to everyone who took part and helped us to raise £478!
We had a lovely time when we went to Anthony Curton to take part in the Marshland Cluster Cross Country Race. There were lots of teams there and everyone ran to the best of their abilities. Our teachers are very proud of us for trying so hard!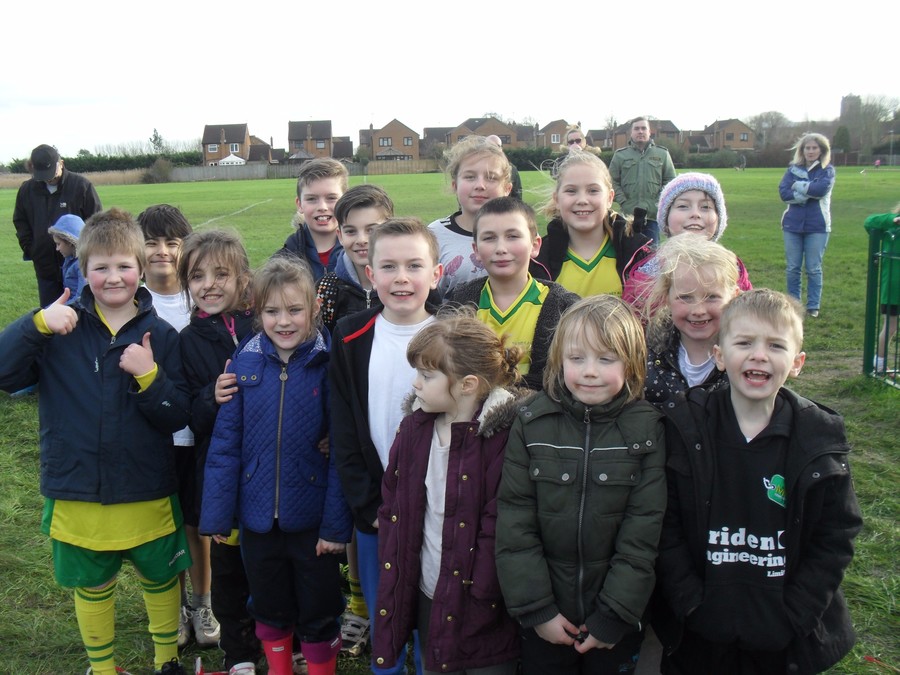 Have a look below at all of our brilliant gymnasts! They are working very hard to gain their badges in gymnastics club!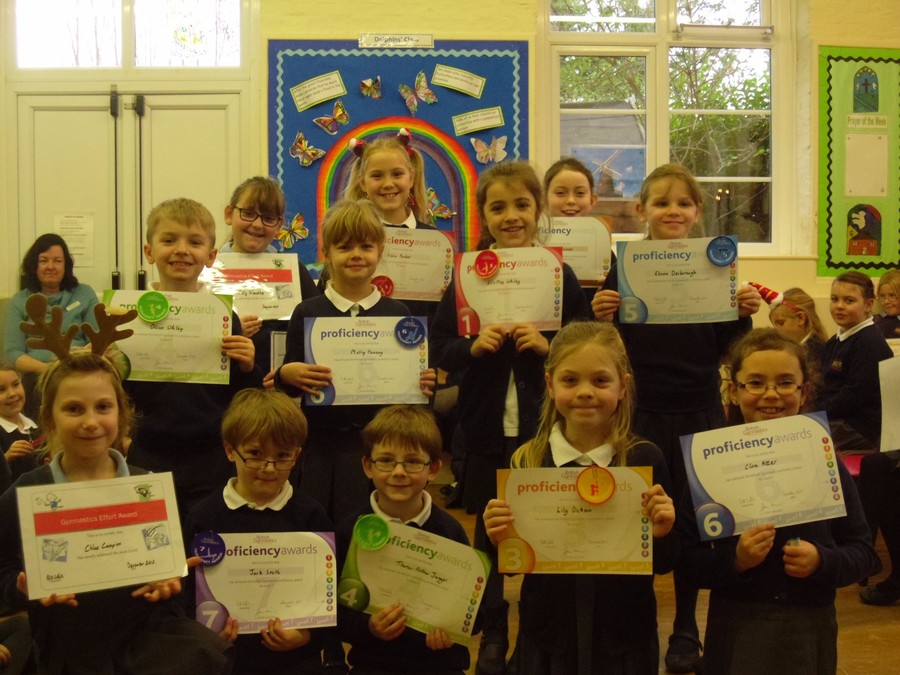 We went to Emneth to take part in the Marshland Cluster football tournament. It was a brilliant afternoon, with lots of high quality football being played!
We went to Anthony Curton School for the Marshland Cluster Speed Stacking Competition. We had to do some very complicated stacking including the cycle stack and a team relay. We tried very hard, but unfortunately we didn't win...we'll be trying very hard again next year to get the trophy!
Congratulations to these two little gymnasts who have been working extremely hard in gymnastics club!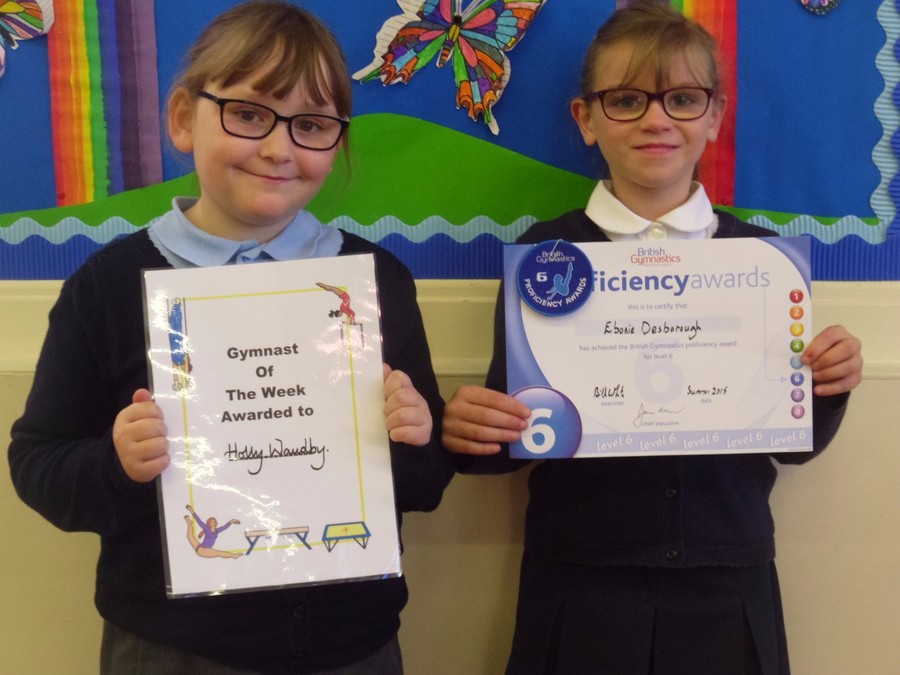 Well done to Holly who got Gymnast of the week from Mr White, who runs the gymnastics club.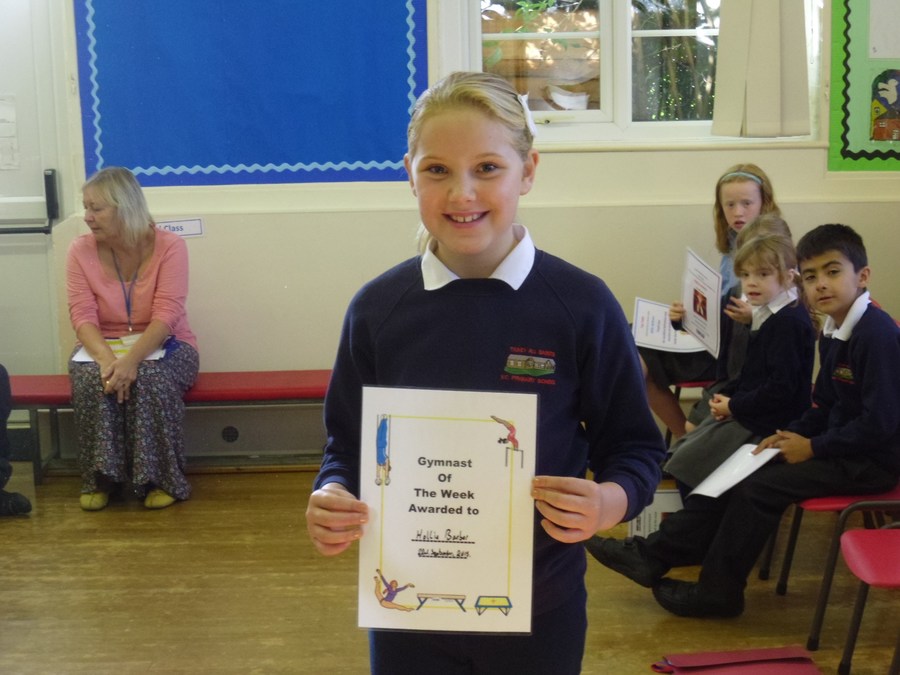 These three little superstars got their certificates because of all of the effort and hard work that they put in to their gymnastics club.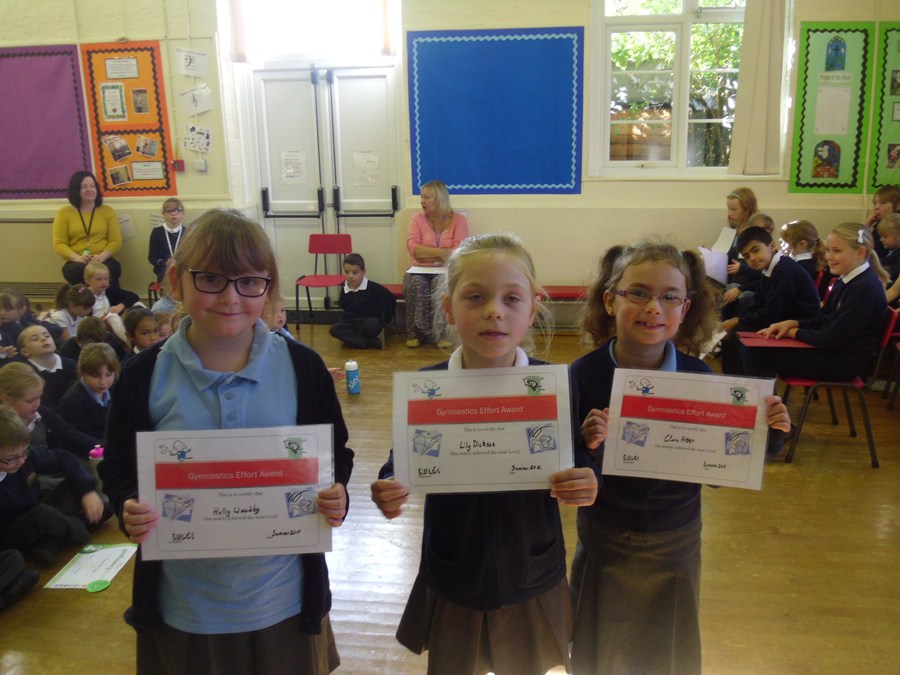 Holly showed us lots of certificates for her dancing which she does outside of school. She had certificates in tap, jazz and ballet! Well done Holly - we can't wait to see some of your dancing in school!
Ebonie was very proud of her medal which she was given for multi-sports - Well done Ebonie!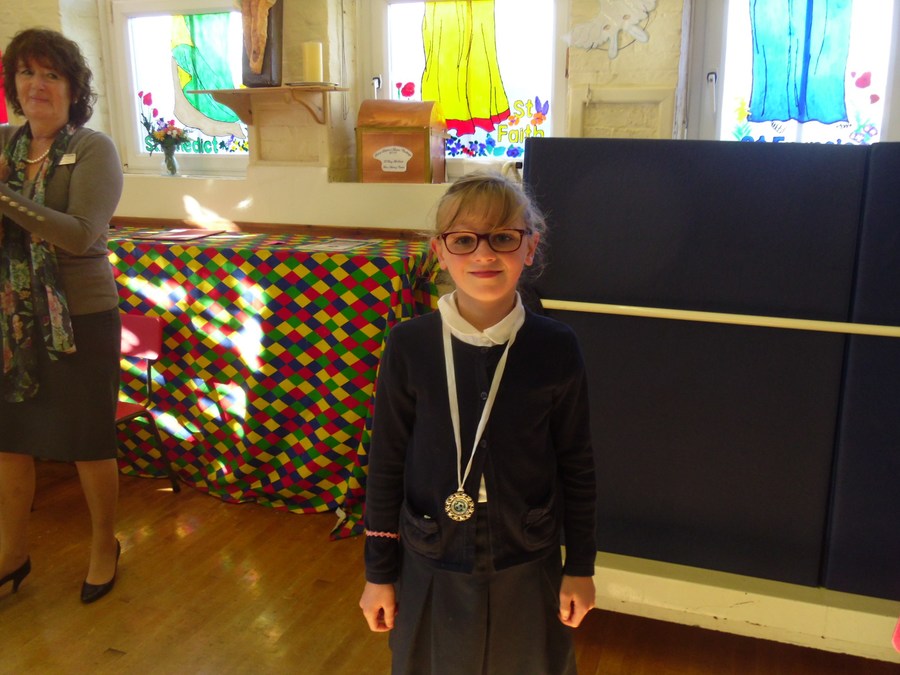 Look at all of the achievements that our little gymnasts have made in Gymnastics club! Well done and keep up the good work!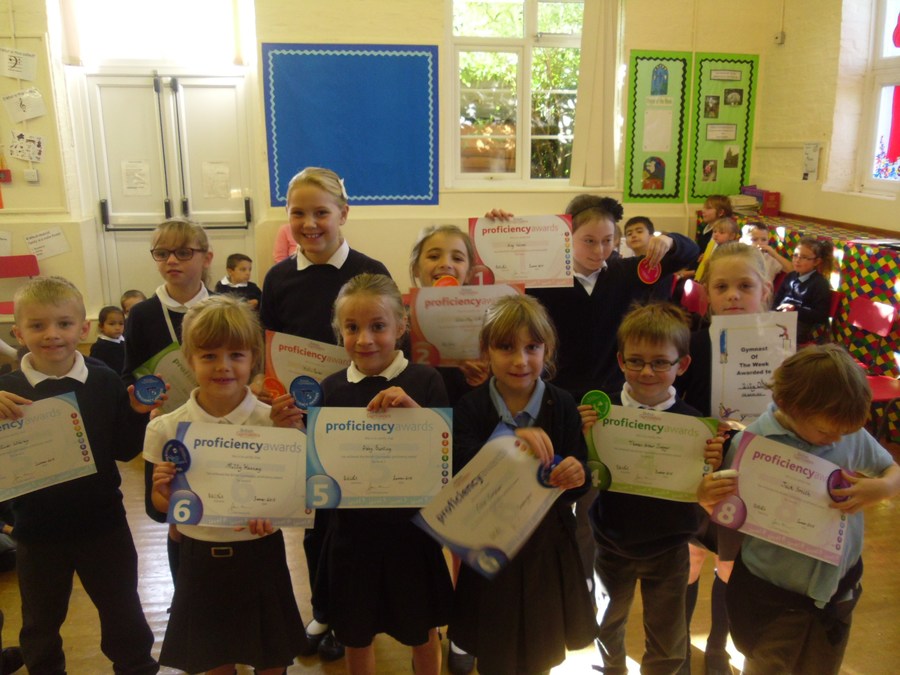 Congratulations to 3 members of our staff who received national awards which they have been working very hard on for a very long time!
Miss Hill (From Anthony Curton)and Mrs Reed both spent a year working on gaining their NPETCS qualification, which means they are trained to a very high standard in P.E. and are qualified to teach P.E. lessons to all of our children.
Miss Liddle has been working on gaining the Level 4 qualification in the Primary PE Subject Leader award.
Congratulations to all staff for all of their hard work and success!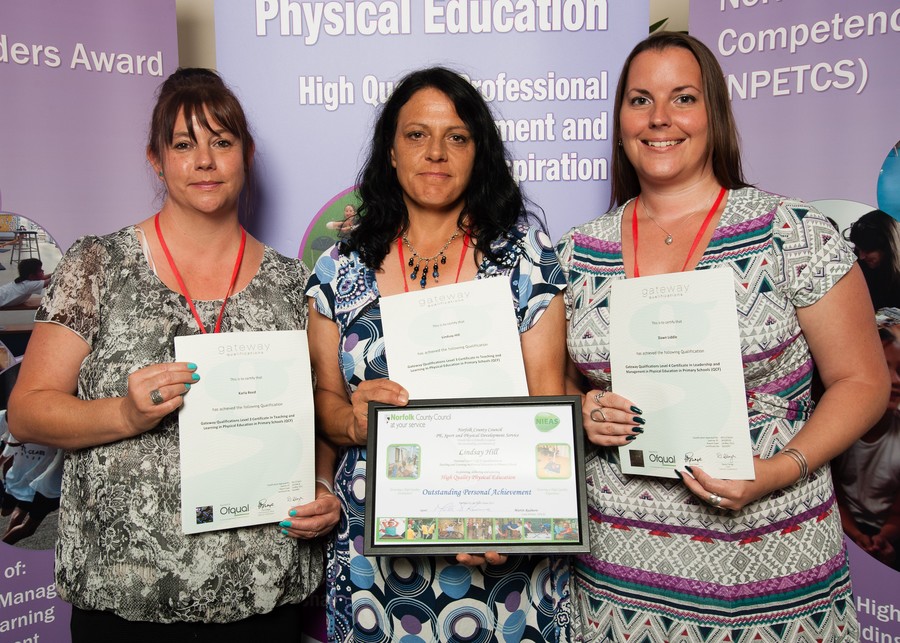 We recently hosted and took part in the Marshland Cluster Rugby tournament, well done to all of the children who took part and showed some brilliant sportsmanship!
Look at our amazing little ballet champion below! Well done Amy!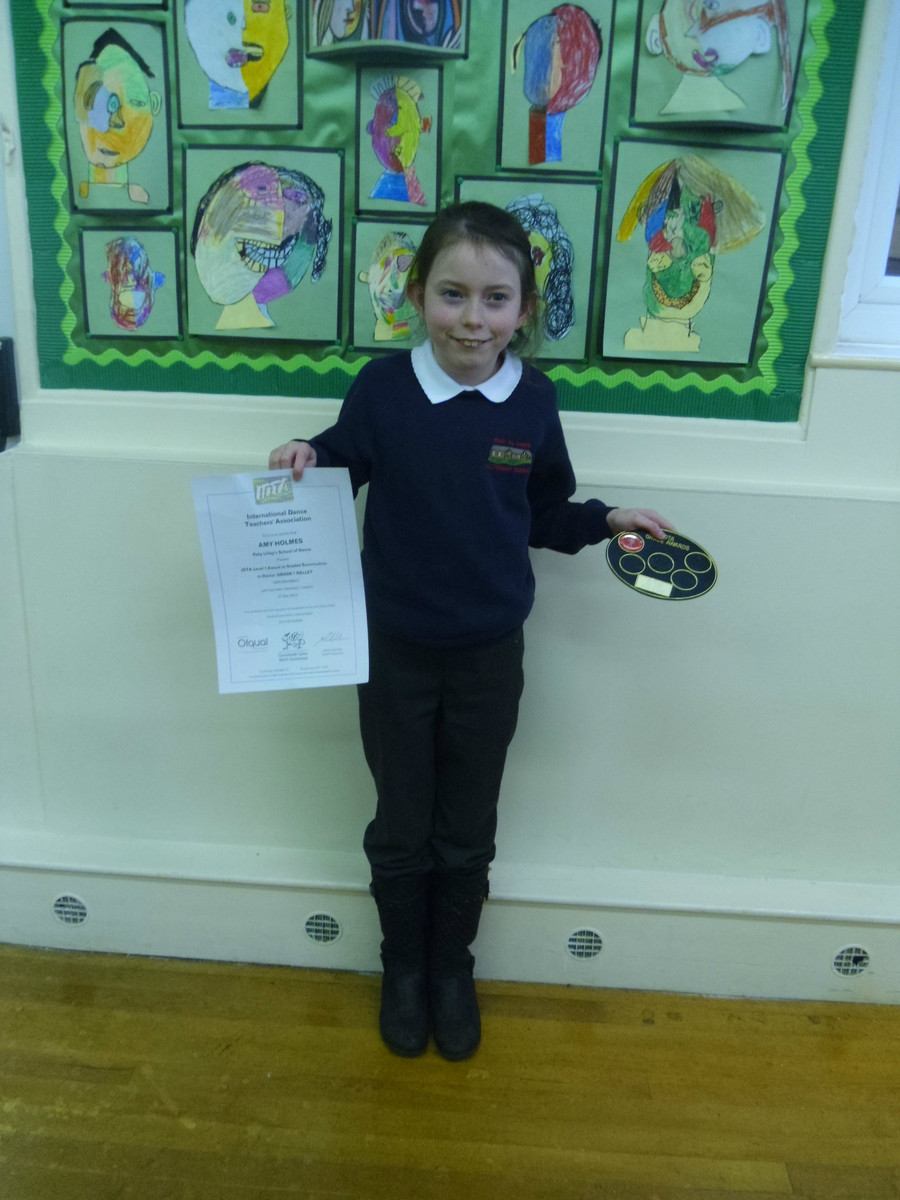 Look at all of our fantastic gymnasts who have received their badges in gym club!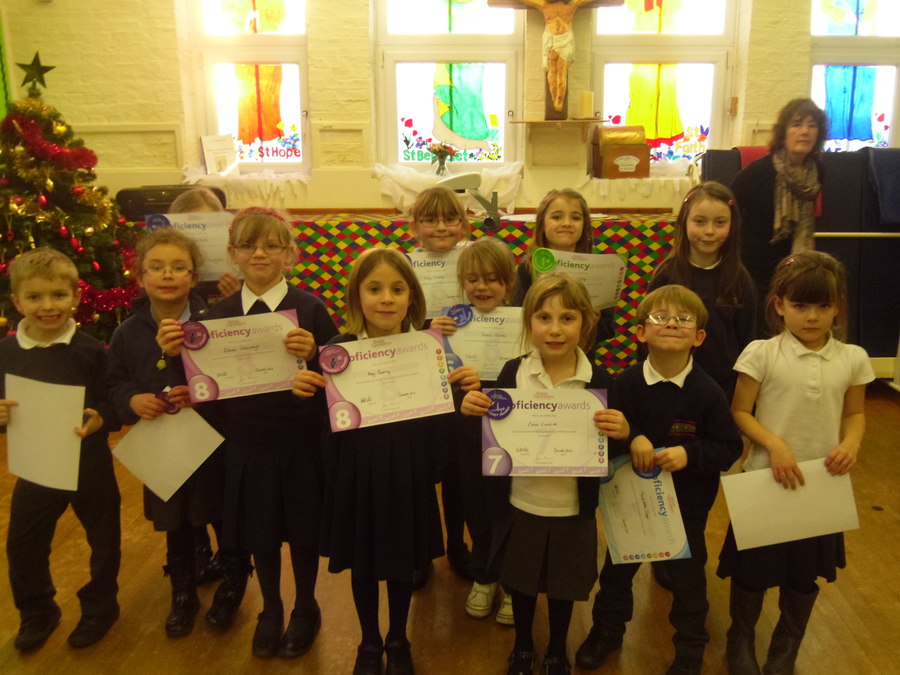 We recently took part in the Marshland Cluster Speed Stacking competition, held at our sister school, Anthony Curton. We practised really hard and had to complete the 333, 363 and cycle stacks, as well as a team relay. At the end we even made the adults have a go! Weel done to Darcy Moore who got the fastest time in all of the individual stacks!
We recently had a skipping workshop where the whole school had a chance to learn new skipping moves!
We took a team of cricketers to Emneth Primary School to take part in the Marchland Cricket Tournament. We had a fantastic day and played lots of really good cricket - we even came second!!! Well done to everyone who took part!!
We took part in the Marshland Cluster tennis tournament at Marshland st. James...and came joint second...well done to the team!!
We've recently bought a new maypole for the children so that they can have fun and learn a new skill...watch out for a maypole club starting soon!
We took part in the Marshland Cluster rounders tournament, which was held at West Walton. We were all having a great time until the weather stopped play! Look at us in action below!
Shark Class recently had an archery taster day where everyone had a go at shooting on target. The children loved having a go at this new sport - and the club has prover extremely popular too!!
Well done Lauren for being a super little Gymnast!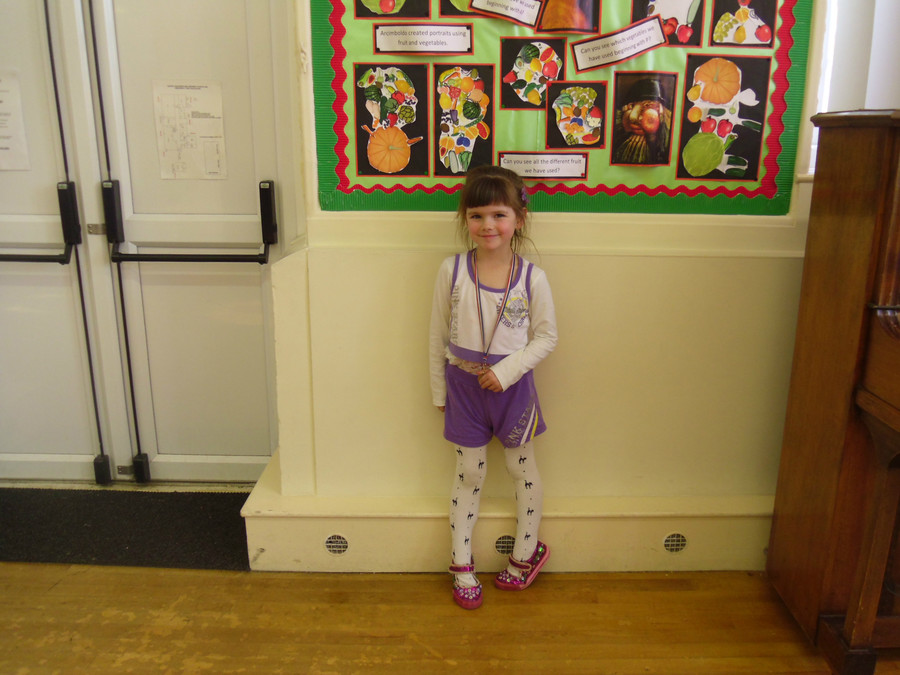 Look at the two fabulous little swimmers below! Well done boys!!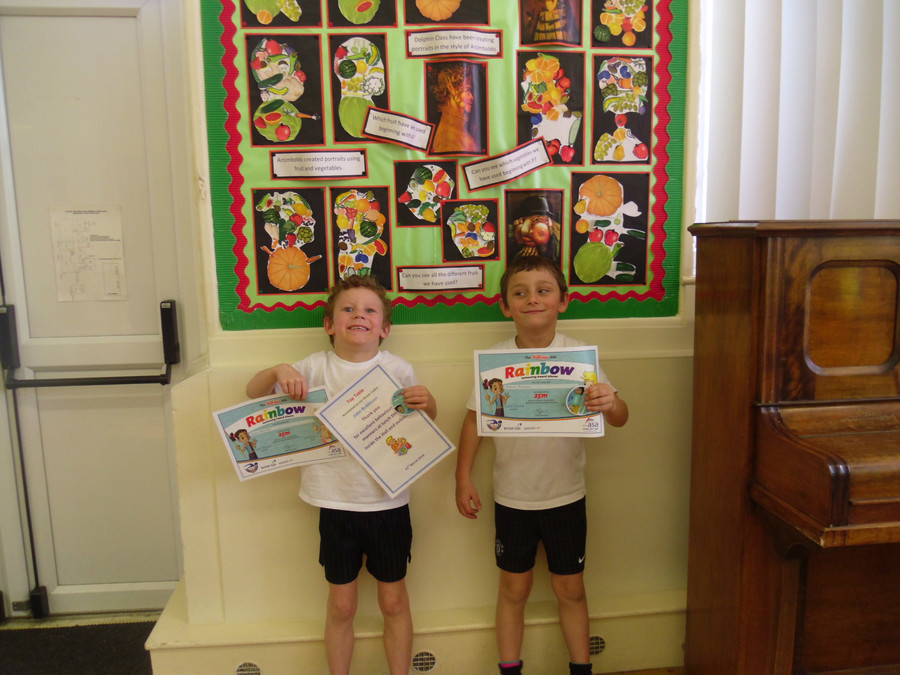 Tilney All Saints School hosted the Marshland Cluster Rugby Tournament. There was a high standard of rugby being played and some good sportsmanship shown - well done to everyone who took part!!
Shark Class practising their netball skills during P.E.!
Look at us in action during our gymnastics club!!
We had great fun over at Anthony Curton taking part in the Speedstack competition. There were 6 other schools that we had to compete against...but we won!!!
Congratulations to Ben Peacock who got the fastest time for the 333, 363 and the cycle stack - and well done to the whole team who got the fastest time for the team relay!
We had great fun on sports day! Take a look below to see us in action!
We recently took part in the small schools' 6 a-side mixed football event at Lynnsport. We came joint second!! (We were only beaten on goal difference!) We would like to say a huge thankyou to Claire Collison, Linda Barber and Sarah Goodchild for taking us there, and to Karla Reed for supervising us!
Well done to Aaron Runyard, Jack Goodchild, Josh Barber, Charlie Whitby, Ollie Collison, Jordan Drummond, Mollie Chase, Teighan Campbell, Eryn Campbell and Jack Loomes for playing so well!
We have great fun at our Mulitskills sessions, which we have on a Tuesday afternoon!
We took part in the Marshland Cluster rounders tournament. We had a brilliant time!
Our Speedstacking team took part in a competition at Lynnsport. We were lucky enought to meet James Acraman who is ranked 6th in the world for Speed Stacking!
Tilney All Saints team retained their relay title with a faster time than last year - 24.52 seconds
Ben Peacock won the 3-3-3 stack and the cycle stack, and was overall the fastest speed stacker at the competition - Well done Ben!
Thank you to the whole team for their hard work! The team consisted of Ben Peacock, Darcy Moore, Jack Loomes and Jordan Drummond, with reserves Charlie Whitby and Josh Barber.
Well done to the swimmers for getting their swimming certificates!!